We have sticklers in our family.  I wouldn't have called my dad a stickler, although he had the highest-level language credential in my extended family and could have carried it off without much trouble.  Dad had the personable habit of deliberately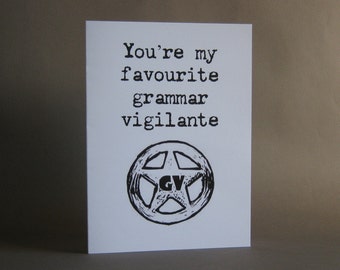 speaking incorrectly on occasion—such as when he would oh-so-politely request, "Pass I the butter."  Perhaps it is Dad's tradition that leads my small family now to make up verb forms for entertainment purposes:  "Where be my Bible?"  "Oh, I tooked it and putted it over there."  Jedd participates in this and knows what he's doing with it.  We are careful, however, to correct him anytime he lapses into regional patterns (that I hear or read almost every day) with respect to past participles:  "I seen him.  He had ran right past me before I knew it."
Since drafting this post, I received this e-mail message at work:  "I know it got picked up, but havnt saw the _____ yet."  If noticing these things makes me a stickler or even a vigilante, so be it.  Real sticklers know it's not about thinking one is right all the time.  We/I make a lot of mistakes, too.  Here's an indication of the difference between sticklers and normal people:  when I find a typo in an old blogpost that no one will probably ever see again, I actually take the time to correct it.  (I can't insert "obsessively" before "correct it," because that would be splitting an infinitive, you know.)
My maternal grandmother, spotlighted with my grandfather here, was something of a stickler, I'd say, and it would have been difficult to catch her in a mistake.  She is known to have corrected the grammar of more than one gracious preacher, including Mike Cope and presumably also the late Jim Woodroof,¹ a giant who moved into the "land of the eternally living"² a few weeks ago.  Grandmother's known penchant for correcting folks might be what keeps me from doing it as much.  (When I knew her, she would naturally have had the respect that comes with being a senior citizen, and I'm not there yet.)  Even though I keep my vocal corrections to a minimum (and sometimes mutter them so that no one can hear), I often read with pen or pencil in hand.
I've noticed that a certain parenting e-resource almost always uses the singular "she" in its examples—presumably in an extended fit of over-correction for the years when "he" meant either.  It's usually easy to avoid the issue by pluralizing everything:  "Every student should do his own work" can become "All students should do their own work" if you don't like "Every student should do his/her own work."  I disagree with the "singular 'they'" image shown here, but no one asked me.  It's actually serendipitous that I came across that:  a younger friend mentioned on Monday that he knows people who want to be referred to as "they" and not "she" or "he."  So let us take note that this might not be merely a grammar thing; it's a gender identity thing.³  Although I would always try to be kind to a person who struggles with identity, I don't support the related social movement in the slightest, finding it overblown and ironically (perhaps Nazi-istically) intolerant at times.
Since I have a very active "inner stickler," I am eager (not "anxious," mind you; the two mean different things) to share some stickler-ish Lynne Truss quotes.  It was with a deep, resounding "Yeah!" that I reread those that appear below.  Does anyone else feel partly like Tarzan, chest-pounding and bellowing, and part-sheepish?  In other words, do you say inside yourself, "Yess!  I feel that way!" immediately before tucking your head as though nothing just happened in there?
In the quotes below, British distinctives such as commas outside quotation marks are the author's.  All this material was lifted from the web, then later scanned and converted to text.  No errors should be attributed to Lynne Truss.  Enjoy.
~ ~ ~
"…[P]unctuation marks are the traffic signals of language:  they tell us to slow down, notice this, take a detour, and stop."
"I apologise if you all know this, but the point is many, many people do not.  Why else would they open a large play area for children, hang up a sign saying "Giant Kid's Playground", and then wonder why everyone says away from it? (Answer: everyone is scared of the Giant Kid.)"
"Part of one's despair, of course, is that the world cares nothing for the little shocks endured by the sensitive stickler.  While we look in horror at a badly punctuated sign, the world carries on around us, blind to our plight.  We are like the little boy in The Sixth Sense who can see dead people, except that we can see dead punctuation.  Whisper it in petrified little-boy tones:  dead punctuation is invisible to everyone else — yet we see it all the time.  No one understands us seventh-sense people.  They regard us as freaks.  When we point out illiterate mistakes we are often aggressively instructed to "get a life" by people who, interestingly, display no evidence of having lives themselves.  Naturally we become timid about making our insights known, in such inhospitable conditions.  Being burned as a witch is not safely enough off the agenda."
"As with other paired bracketing devices (such as parentheses, dashes and quotation marks), there is actual mental cruelty involved , incidentally, in opening up a pair of commas and then neglecting to deliver the closing one.  The reader hears the first shoe drop and then strains in agony to hear the second.  In dramatic terms, it's like putting a gun on the mantelpiece in Act I and then having the heroine drown herself quietly offstage in the bath during the interval.  It's just not cricket.  Take the example, 'The Highland Terrier is the cutest, and perhaps the best of all dog species.'  Sensitive people trained to listen for the second comma (after 'best') find themselves quite stranded by that kind of thing.  They feel cheated and giddy.  In very bad cases, they fall over."
"For any true stickler, you see, the sight of the plural word "Book's" with an apostrophe in it will trigger a ghastly private emotional process similar to the stages of bereavement, though greatly accelerated.  First there is shock.  Within seconds, shock gives way to disbelief, disbelief to pain, and pain to anger.  Finally (and this is where the analogy breaks down), anger gives way to a righteous urge to perpetrate an act of criminal damage with the aid of a permanent marker."
"Yet there will always be a problem about getting rid of the hyphen:  if it's not extra-marital sex (with a hyphen), it is perhaps extra marital sex, which is quite a different bunch of coconuts.  Phrases abound that cry out for hyphens.  Those much-invoked examples of the little used car, the superfluous hair remover, the pickled herring merchant, the slow moving traffic and the two hundred odd members of the Conservative Party would all be lost without it."
"We have a language that is full of ambiguities; we have a way of expressing ourselves that is often complex and elusive, poetic and modulated; all our thoughts can be rendered with absolute clarity if we bother to put the right dots and squiggles between the words in the right places.  Proper punctuation is both the sign and the cause of clear thinking.  If it goes, the degree of intellectual impoverishment we face is unimaginable."
— Lynne Truss, Eats, Shoots & Leaves: The Zero Tolerance Approach to Punctuation
~ ~ ~
Now, from a review of a review of Truss's book:
The New Yorker does not encourage letters of rejoinder, but Andrew Franklin, Truss's editor at her publishers, Profile Books, is happy to answer back.  He is not to be outdone in witheringness by Louis Menand.  The problem is mostly the critic's humourlessness. "If you have no sense of humour", Franklin thinks, the success of Truss's book will be a mystery to you.  Misunderstanding the purpose of her book, which is not a style guide but an entertaining "call to arms", Menand has pedantically reached for a non-existent rule book. "I think he's a tosser.  You're welcome to use that," Franklin remarked when I quizzed him for his views on Truss's antagonist. "I'd never want to spend an evening in his company." Rules in English "are more complicated and sophisticated" than he can dream of, he adds. Good writers can break the rules, provided they have learned them before they break them.
Why should it have so provoked one of the New Yorker's leading writers?  "A twisted colon" is one of Franklin's explanations, but he also has a weightier cultural analysis.  The attack is "deeply xenophobic".  An American critic who is used to his readers having their eyes only on American culture has seen them reach for an idiosyncratic English book for a discussion of grammar.  So far the book has sold 800,00o copies in the US, about as many as it has sold in Britain.  For the arbiter of matters literary and linguistic in the New Yorker chair, it is, Franklin guesses, just too much.
– https://www.theguardian.com/books/2004/jul/02/referenceandlanguages.johnmullan
---
¹ Jim Woodroof's inspiration is the subject of more than one post on this blog, including this one and this one.  For a generation of Harding students (before my time), at least, he was a legend.  You know how it gets annoying when someone just won't let an opportunity pass without mentioning his favorite issue?  I decided at some point after having heard a couple of special lectures and having read a couple of his books, that he was the most perfect ample of a single-issue guy I had ever come across.  Here's the thing:  the "issue," for Jim Woodroof, was always Jesus.  He always focused attention on Jesus.
² "Land of the eternally living" was the late Cecil Hook's description of his wife's soul's abode after her passing.  For more on Hook and his influence, see this post.
³ I am currently reading God and the Transgender Debate by Andrew T. Walker.  So far, I judge it to be fair-minded and helpful for Christians.