In baseball, when there's a fly ball near two players, one is supposed to call, "I've got it!" (if in fact he is sure he can catch it in the air).  If he turns up with the ball in his glove, well, then he did in fact get it.  The results are pretty clear.
In various life situations, it's fashionable to assert "I've got this."  Alternately, friends who wish to be supportive will sometimes say to someone facing an obstacle, "You've got this."  The "___ got this" sometimes turns out to have been an overstatement at best.  I think immediately of two situations in which the result could be called into question.
A woman confidently asserted, "I've got this" and did in fact make a great stride, but it is only a temporary, limited victory.  Did she "have this"?  Time will tell, but I doubt it.
A dad encouraged his young son the pitcher with "You've got this!" but turned out to be incorrect.  More batters walked, the pitching form deteriorated further, the umpiring didn't really help, and the game was lost.
I've begun to look the other way in sympathetic embarrassment, not wanting people who say "I've got this" or "you've got this" to be proven wrong.  When someone says one of those things, the reality of the result isn't always as clear as with a fly ball to the outfield, but the situation can usually be sized up at some point.  I start to think "You've got this" is little more than an empty phrase.
In Christian circles, some are fond of saying, "God's got this."  As for me, I wonder how they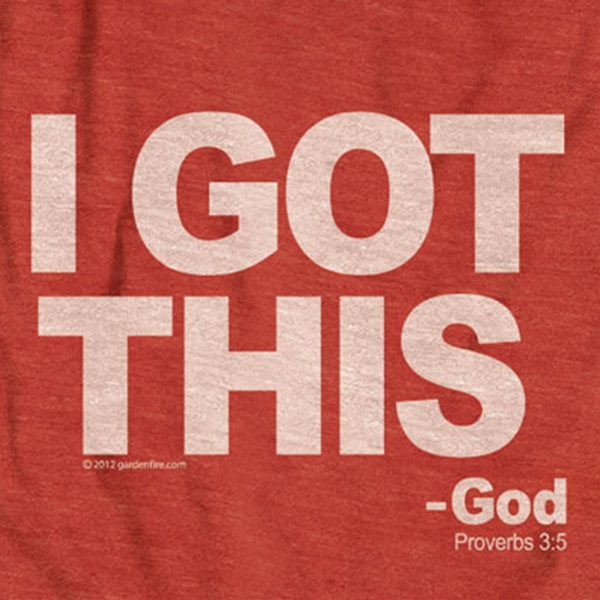 can be so confident.  A Google image search brings up a whole caboodle of e-designs, most of which were probably originally on church signs or PowerPoint sermon slides, e.g., the one shown here.  I suppose God Himself could utter this pop-culture saying, and He would always be correct.  I mean, if He actually were to proclaim, "I've got this," well, then, He does.  (Would He say "I got this" instead of "I've got this" in order to communicate well with English speakers who don't use good grammar?  Maybe so.)
In one sense, it is an expression of faith to assert that God's "got" something, but I still wonder how the reality, or lack of it, is ascertained in some situations.  Honestly, the saying sometimes seems more like shallow, nearsighted, human overconfidence than faith.
Fly balls may fall to the ground; pitching and personal business may go out of control.  Those are normal-life things, some of which we can control,¹ to an extent.  You or I might claim "I've got this" with limited implications.  The "God's got this" thing, though, goes directly to the eye of faith:  how far, and how well, can I see?  And I'll go further, out on a limb:  how can a "got-this" God who exists out of time be seen by those who are bound within time?
On this point, please take a few minutes to hear and ponder the late Rich Mullins's words, from his song "Hard To Get" (YouTube link here).  I resonate with one of Mullins's poignant prayer-thoughts:
You who live in radiance,
Hear the prayers of those of us who live in skin.
---
¹ Some would say that any sense of human control over events in our physical lives is an illusion.  I disagree.